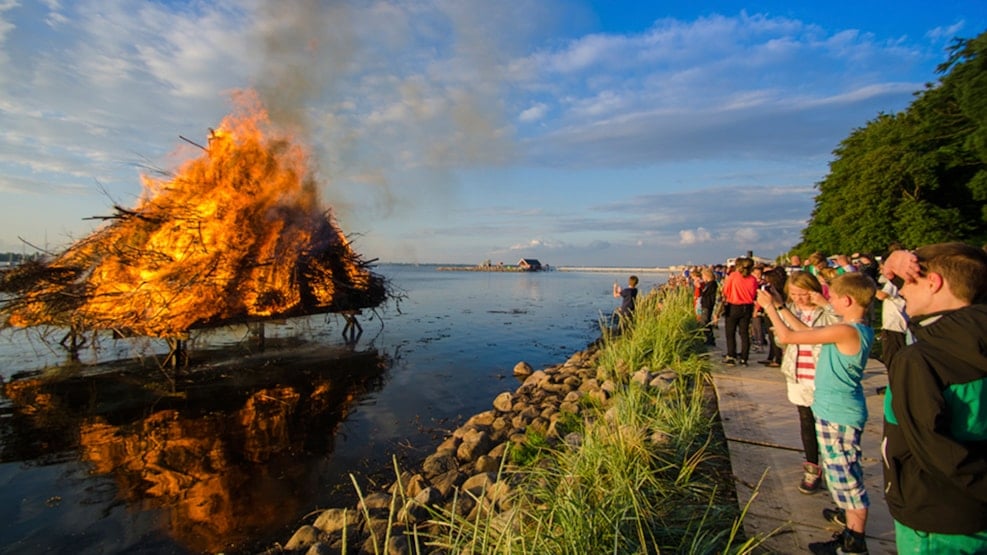 The beach park in Holbæk
The beach park in Holbæk is a beautiful park by the fjord, Holbæk Fjord, which is the southernmost park of the Isefjord.
The beach park (Danish: Strandparken) in Holbæk is one of nature's gems, which is located by Holbæk Fjord, the southernmost part of the Isefjord. The park is designed in a romantic style inspired by Frederiksberg Gardens by Copenhagen, with winding paths, a variety of plants and big grass planes and a beautiful view of the fjord.  
Here you can experience:
A more than 80 year old mill.
A lookout tower.
A pool in the Fjord, called "Søbadet Venedig".
A playground.
Views of the fjord.
The sculpture "5 Dimensional Pavillion" by Olafur Eliasson
The masterpiece "5 Dimensional Pavillion" by Islandske Olafur Eliasson is in the park. Olafur is especially known for the architectual construction "Your rainbow panorama": A well known 1500 meter wide, circular, viewpoint at the top of the museum ARoS in Århus, the second largest city in Denmark. It was built in 2011. 
But already in 2000 Olafur could present the sculpture "5 Dimensional Pavillion" in Holbæk. The sculpture is constructed in flat steel, which is placed as an artistic touch to an old well, which flows into a circular pool under the pavillion. 
Panoramic view of the fjord
By the fjord-pool Venedig in Holbæk, there is a tower from which you can experience a stunning panoramic view of Holbæk. From the tower, you can see the peninsula Tuse Næs, which is north of Holbæk. 
The mill in the park
For more than 80 years the mill "Søndersted Mill" has been placed in this park, in Holbæk. This is a very rare type of mill, which is made of wood and placed on a foot, so the entire mill can turn according to the direction of the wind. Today, there are only 11 of these mills left in Denmark. 300 years ago the mill was constructed in Butterup and later on moved to Søndersted. It was not until 1936 that the mill moved into this park in Holbæk. 
The park was given to Holbæk Municipality in 1898 by the merchant W.R. Tidemand, who wished that the park should be enjoyed by everyone.