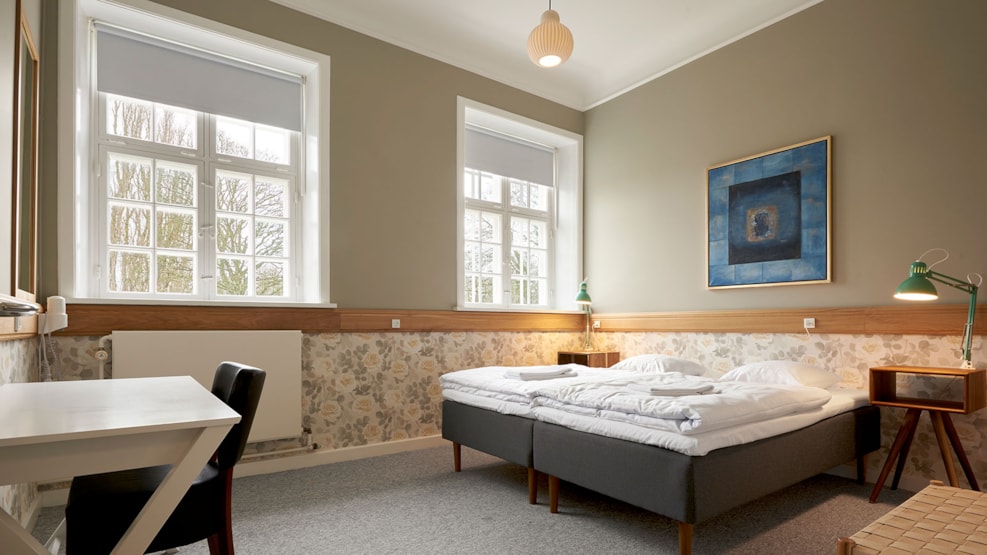 Gæstehuset in Anneberg Kulturpark
A historical breather
Enjoy a stay in Annebergparken's beautiful, historic setting with views of the fjord, field and forest. The guesthouse is a natural extension of everything that Anneberg Kulturpark stands for: Simple, down to earth, with high ceilings and with nooks and crannies in cultural history, art, gastronomy and nature. A sensual and historical breathing space for body and soul.
Extend the experiences in Anneberg Kulturpark
Whether the trip here goes through an evening of food & wine in the gourmet restaurant MOTA, a visit to the Artist's Wing, a special cultural event or perhaps just the desire for a getaway in the scenic UNESCO Global Geopark Odsherred, Gæstehuset is the obvious opportunity to extend the experiences with a accommodation or more.
Newly renovated and simple
The guest house's newly renovated single and double rooms in the old hospital building are designed to find peace, presence and a connection to the surroundings, nature, the local environment, culture, art and gastronomy. The rooms are therefore simply furnished and without television. Bathroom and toilet are shared in the hallways. Wifi is available everywhere.
PRICES PR. NIGHT:
Check out www.annebergkulturpark.dk/overnatning
Breakfast incl. drinks can be purchased.