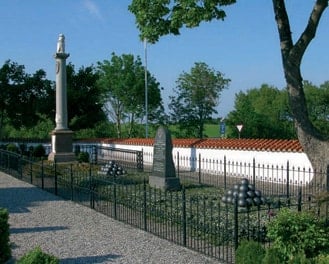 Krigergravene
The monument is placed in memory of the Danish naval hero
Peter Willemoes and 63 other warriors from the line ship 
"Prins Christian Frederik" fighting 3 hours against 5 British ships in 1808.
The Danish ship eventually sank 300 metres off the coast, with the naval hero Willemoes dying in the course of the battle.

On the monument is a poem by the poet Grundtvig.