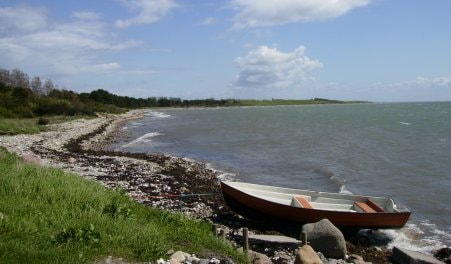 Overby Lyng - Sj. Odde
Driving instructions: Drive towards Sjællands Odde. The angling spots are all the way where the "Oddenvejen" runs along the water and another couple of kilometres towards Odden harbour.
There are parking lots.

Fish species and season: Sea trout can be caught in spring, summer (night fishing) and in autumn. Garfish in May. Flatfish (flounders and dabs on a bottom line) can be caught the whole year. Look out for the  "fjæsing". The fish is poisonous if you step on it.

Bottom conditions: Varied low and deep. Waders are an advantage, but not an absolute necessity.

Weather conditions: Very open and therefore sensitive to wind from west and north.