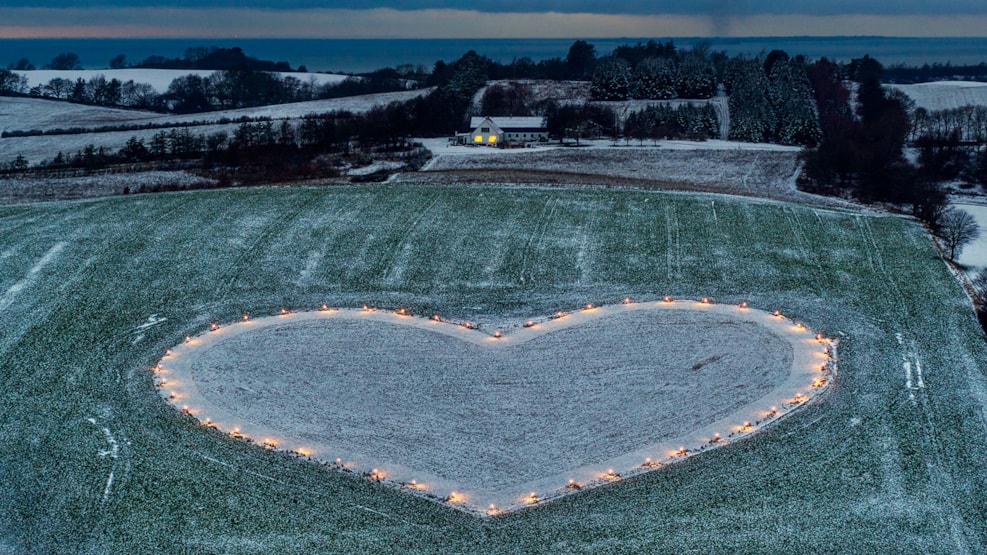 The Vejrhøj Heart
As a beautiful landmark, the giant Vejrhøj heart lights up every year at Christmas time in the landscape at Fårevejle.
Located on a ridge towards the flat Lammefjord, the 110x100 meter large, luminous heart can be clearly seen from the roads of Lammefjord and can even be spotted from the surrounding towns.
The Vejrhøj heart is lit every year on the 1st Sunday of Advent at 4pm and stands with light until Holy Trinity.
Beautiful tradition with a sad background
The Vejrhøj heart is a beautiful Christmas tradition, which creates light and joy for everyone who walks in the winter darkness of Odsherred. But the background is really very sad. The heart is Ove Geldstrup's greeting to his son, whom he tragically lost in 1995.
As a 25-year-old, the son took his own life after an unhappy love affair and left a farewell letter with the words: "If I could afford it, I would like a stone shaped like a heart".
The year after, he got more than that. Ove gave his son a luminous greeting that he can see wherever he is now.